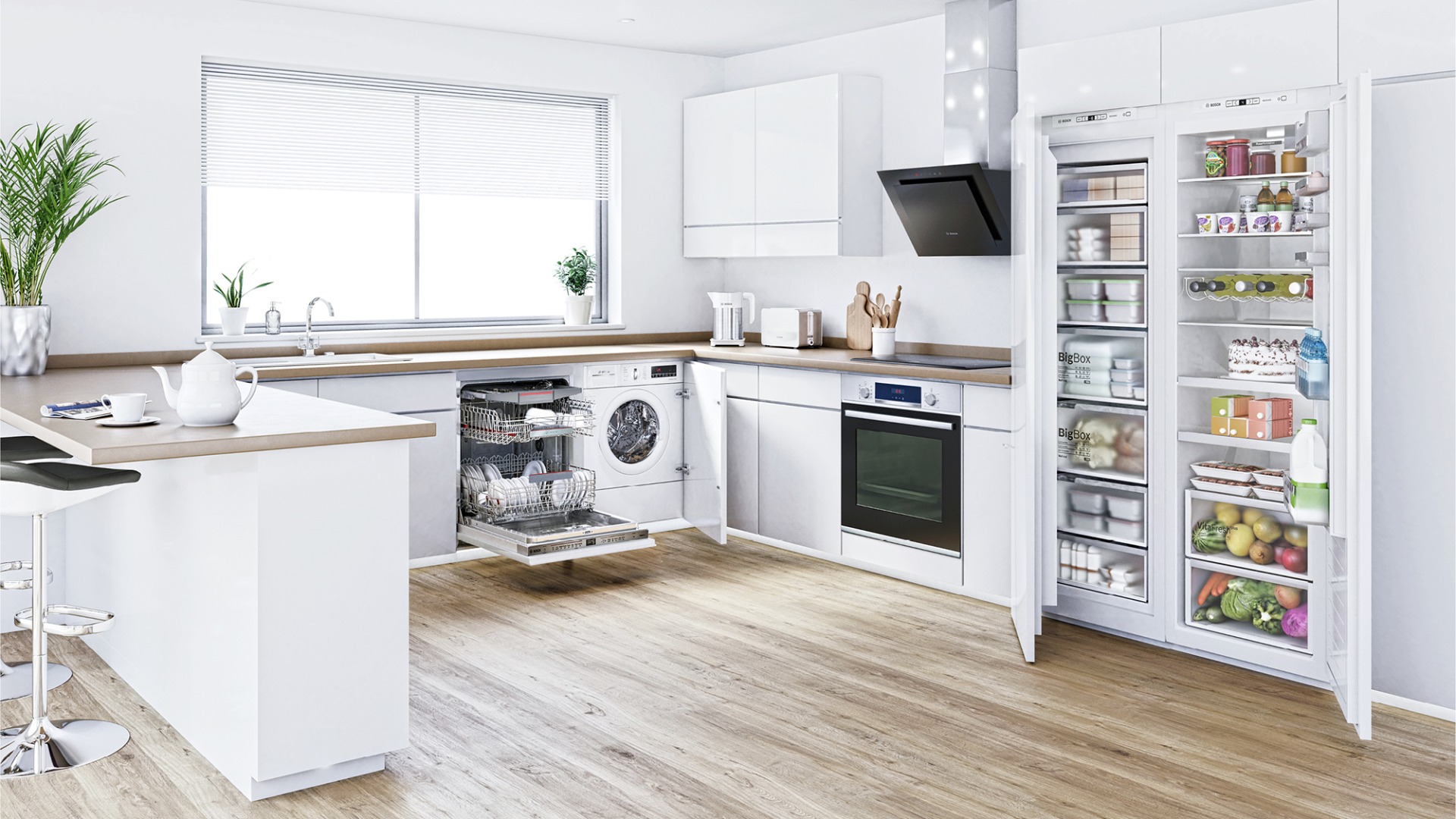 Why Choose Bosch?
Think Bosch and engineering excellence comes to mind. It's been that way for over 130 years and our home appliances
continue to be renowned for their quality, reliability and performance.
We are so confident we have a line-up of appliances you can rely on, we are offering a free, extended 5 year warranty on
selected built-in and freestanding appliances along with the promise that our team of qualified engineers are on hand should
you need them.
So when you want pure, clean lines and beautiful, functional simplicity that will enhance any kitchen, think Bosch
FREESTANDING APPLIANCES

Choose from our wide range of freestanding appliances for all your household needs.

BUILT-IN APPLIANCES

Our suite of built-in appliances are the perfect addition to your new kitchen.
A line-up you can rely on.
We truly believe in changing things for the better, creating appliances
that are perfectly designed for your lifestyle and needs. And once
you've chosen Bosch, you can trust us to always be there for you.
If your Bosch appliance ever needs a repair, our team of locally
based, highly skilled engineers have unrivalled knowledge and
expertise to repair all of our appliances. No wonder we're the
number one brand for major domestic appliances in Europe*.
*Source: Euromonitor International Limited, volume sales 2020
Life tastes better with the right oven.
We measure our ovens by much more than perfect baking results. We build them from the most stable materials and test their durability in endless stress tests.
Designed to integrate into any kitchen, there's a wide choice of models with plenty of helpful features that help you deliver delicious food whatever you're cooking. Even heat distribution, added steam, even advice on how to cook dishes will ensure every meal is faultless. And with pyrolytic self-cleaning, the after meal clean-up has never been easier.
For the perfect meal
just turn on the hob.
Our hobs provide an assortment of functions to help you boil or fry to perfection. All our induction, gas and electric models are packed with clever ideas and thoughtful features that provide you with maximum flexibility. The FryingSensor Plus, for example, keeps an eye on your steak leaving you free to do something else. The HighSpeed zone on your hob not only brings things to the boil 20% faster, but also makes it easier to pan-sear food. Clever technology hidden in a sleek and stylish hob.
A breath of fresh air in the kitchen.
To make sure that you only smell what you really want to smell when you're cooking, we have developed a range of powerful cooker hoods. Steam and odours are removed at the source without being given the chance to spread into your kitchen. And insulation and a low-noise EcoSilence Drive make our extractor hoods so quiet that you and your guests will barely hear a thing.
Our wide range of sizes and designs make finding the ideal hood for your kitchen easy
Fridges and freezers with fresh ideas.
Our stylish fridges and freezers use energy-efficient technologies, flexible interiors and innovative systems for cooling and freezing. Discover handy features such as clear shelving, spacious boxes and ingenious dividers so you always know just what food you have in your fridge.
You'll save money and time too. Our VitaFresh system keeps your fruit and vegetables fresher for longer so there's little waste. And NoFrost prevents ice from forming inside so you'll never have to defrost the freezer again.
Think Bosch for your wash.
Our laundry appliances are fully loaded with features that save water, energy and money – not to mention time and effort when washing and drying your clothes. Bosch washing machines feature Speedperfect and Ecosilence drive to get your laundry clean quickly and quietly. And our tumble dryers are among the most efficient in the world, whether you choose a heat pump dryer or a condenser
All of them are tested to the extreme, so we know they're ready for any challenge you throw at them.
A dishwasher for every kitchen.
Built-in or freestanding, Bosch dishwashers are packed with innovative technology that's designed with you in mind. Our VarioFlex and VarioDrawer features enable you to flexibly load your dishwasher, while SpeedPerfect+ and the Eco setting give you choices without compromising effectiveness. And our dishwashers dry as well as they wash. PerfectDry uses natural Zeolith® minerals to remove humidity from inside the dishwasher, leaving you with cupboard-ready dishes.
There's even a TimeLight display to discreetly project key information onto the floor. What more could you want from a dishwasher?
Quick charging, long running cordless vacuums.
Whatever kind of home or lifestyle you have, we've designed a cordless vacuum for you. Whether you want to tackle pet hair or have different types of flooring, need something light and flexible for hard-to-reach places or a model that's powerful enough to clean your whole house from floor to ceiling we've got what you need.
Whichever you choose, you'll find all our cordless cleaners have Bosch battery technology that delivers intensive cleaning performance and a very long runtime.
Small and mighty appliances.
From your toast and cuppa in the morning, to wholesome soups for lunch, indulgent cakes at teatime and perfectly prepared vegetables for dinner, our range of small appliances can make your day a whole lot easier.
With over 50 years experience in designing kitchen machines, we know what works. Our food mixers feature handy accessories and built-in scales, our hand mixers and blenders are powerful yet lightweight and our blenders are strong but quiet. There's even up to seven temperature settings on our clever kettles.